Hi,
I need some help and advice on setting up my new Diseqc system
My current setup is at the top of the image (Simple, two tuners plugged into a dual LNB) and everything works fine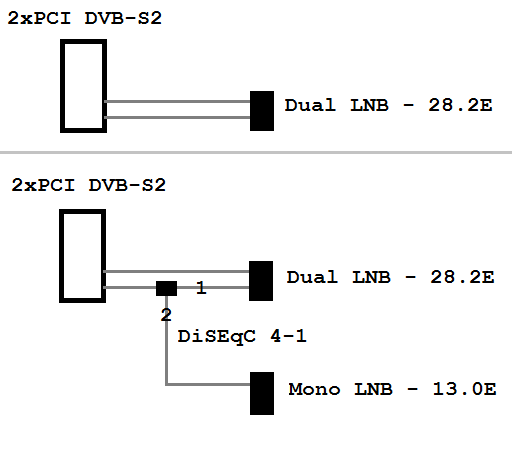 I have a 2nd dish with only a Mono LNB and I have bought a 4-1 Diseqc switch.
I understand my diseqc.conf file needs to look something like this
But because there is only one card connected to the extra dish/LNB is there something I need to do to make sure that VDR doesn't try to tune to the S13.0E channels on the card that is only connected to the S28.2E dish?
Another question, the extra dish I have will be setup so I can manually move it to whatever position I like (it doesn't have a motor), do I need to list all the other satellites I may want to access in my diseqc.conf file but have them looking as if they're all on the same port, as so....